Well, here goes: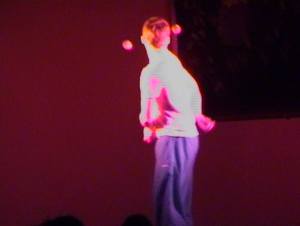 This is Dave from Liverpool. He did some cool tricks with 3 and 4 balls.
This is Dave from Liverpool, but a different Dave. We've all seen him do his diabolo stuff before. See the top of this page for a better photo which includes his face.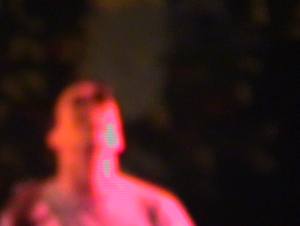 This is Geoff from across the pond. He did something with his balls and a small child. He ended his act with a 7 ball flash with the last ball caught on his neck. Cool.
This was the Georgini Devilstick Project. Nice routne but doing it to Robbie Williams 'Let Me Entertain You' is just sooo last century.
At some point before or after the interval (I can't quite remember) the raffle was drawn, the cakes were judged and future conventions were promoted. I didn't win anything on the raffle and didn't win anything on the Chocfest Chocolate Cake Challenge. I did, however, promote a juggling convention but only because Little Paul told me that he had to bulid up the numbers or else the feature wouldn't go ahead.
I was going to do a 7 ball juggle and catch the last one on the back of my neck (to top the guy before) but from the time I walked from the back of the hall to the stage I had lost one of the balls. So, inevitably, I did the drink the drink and juggle at the same time trick. I did a 6 ball multiplex pattern to make it more interesting.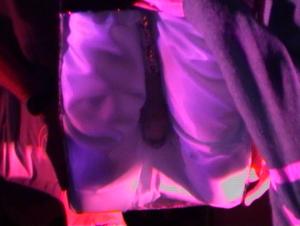 There was a chocometer on stage which measured the chocolateyness of the cakes. Paul Tricket won and was given a very fragile Beard Radical Fish cast out of solid milk chocolate. It had to be kept in a padded box to stop it from breaking.
That makes it just slightly stronger than the new Radical Fish prototypes then.
The picture of it above was taken with the camera held upside down, sorry... It looked so much better in rel life.
Sean Mckinney did two acts, at either end of the second half. Here he is doing 5 balls really low. He did loads of other stuff but it was trick after trick that I can't even describe let alone do. 5 ball continuous back crosses? Easy.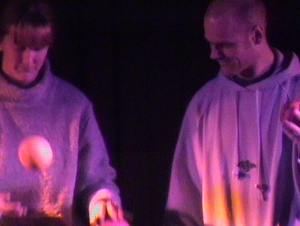 Stu and Loopy Lu did a rythmic bounce juggle tap dance routine. I thought it was really cool until they started juggling and dropping. (Hmm, that picture is the best one of the show yet. Looking at the video footage I shot of the show it's quite amusing to see it getting wobblier and wobblier.)
Gonzo Moose, aka Mark and Pascalle, did a magic routine that I can't remember much of. The one thing I do remeber is that there was no magic involved. I'm sorry about the photo as well, but that was the best one I got.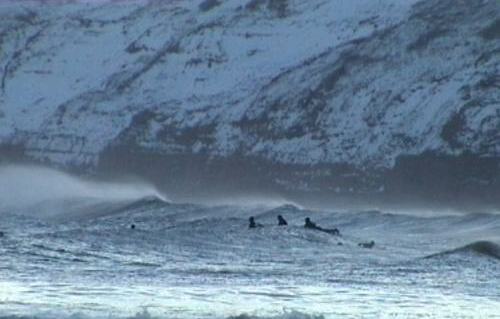 "What the **ck?" I hear you say. Well, there were no surfers in the show but I've decided to tell anyone reading this that I actually do a lot of photography and most of it is a much higher quality then what can be seen on this page. That picture is one I took for a univercity assignment. You like it? Good.
Ok, back to Chocfest.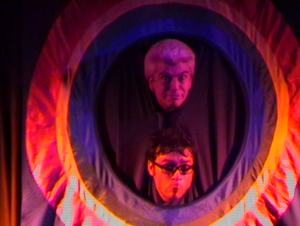 Men in Coats did a cool act but I missed it because I was at the bar through most of it. This is the "That's All Folks" ending...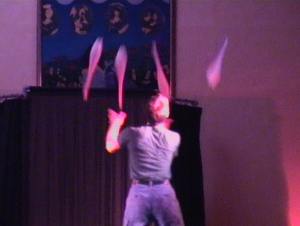 Sean Mckinney finished off the show with another act which, if I remember correctly, really impressed me and everyone else. I don't think I can do him justice by describing the act in any detail whatsoever. So I won't.
This review is certainly getting less and less helpful as it goes down the page. Sorry.