My 13th EJC in a row! And it was awesome. I took lots of photos, and Juliane snapped quite a few too. I'm going to write up an article about it for Kaskade Magazine and include some of these photos too.
The easiest place to view the photos is on Facebook, where you can like, share, comment, tag… and otherwise see what other people think about them. The full album is here:
However, I do like to share every photo here on my blog, and make it easy for those interested to download the highest resolution and best quality image. All images on my blog (unless otherwise stated) are under a Creative Commons 3.0 license, which means you can use them for non-commercial purposes, as long as you credit me and provide a link to this blog post for others to find them. If you want to use these photos for a commercial purpose (eg. in promotional material and on professional websites), email me at luke@juggler.net and I almost invariably give permission.
EJC 2013 day 1 – Saturday
The Lido EP2 show.
WEC Family.
EJC 2013 day 2 – Sunday
Compagnie Alchymère.
EJC 2013 day 3 – Monday
Fruit.
Workshops.
Hangout area.
Unicycle competitions.
Infopoint internet access.
Patrik and Wes.
In the gym.
EJC 2013 day 4 – Tuesday
Hangout area.
no description.
Unicycle competitions.
Visual Juggling Showcase.
In the gym.
EJC 2013 day 5 – Wednesday
Live music.
Froggy Gala Show.
Intrika Fashion Show.
EJC 2013 day 6 – Thursday
Volleyclub.
Fire Gala.
Defracto.
In the gym.
EJC 2013 day 7 – Friday
Workshops.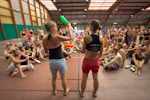 Sacékripa.
Friday Open Stage.
Workhops.
Fight Night Qualification.
EJC Gala Show.
EJC 2013 day 8 – Saturday
EJC Juggling Games.
---
I love to read comments and feedback about my blog posts. Please email me, I reply to every message: luke@juggler.net