Download the soundtrack here: T40J16 E.P. (10mb mp3)
See all the jugglers listed here: Juggle Wiki Top 40 Jugglers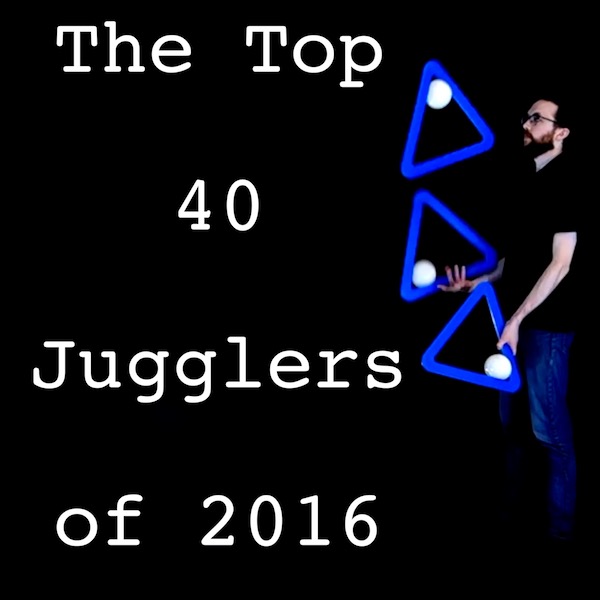 T40J16 E.P. lyrics:
Track 1 – Roll Call
Worldwide
We are Worldwide
Diverse, dispersed but unified
Roll Call the delegations
To the United Nations of Juggling
First, the delegate from France
At first glance is this dance?
But the style it must advance
And Eric will be right here
Next, we take a turn to Germany
Again advancing technically
With seven clubs eternally
And Chris will be right here
Now we see the team from Austria where
All the clubs and rings are in the air
And all the passing records disappear
Jonglissimo will be right here
On to England and
Mixing juggling skills and dance
Just the thing for high culture fans
The Gandinis will be right here
Find a man to stand for Japan
Perplexing with multiplexes
Catching, snatching apexes
Koota will be right here
Make way for the USA find
Ways with balls and clubs to amaze
Sharing Four Tricks on Fridays, yeah
Phil will be right here
To Sweden to see them
Talents of throw catch and balance
Air Traffic Control Nightmare
Patrik will be right here
On we go to Mexico Club
roll, trap, throw, grab, swing, flow
Scissor or penguin catch, go!
Jorge will be right here
Now over to… Oh
There's a flaw in this plan
Already one juggler from Japan
Masahiro can't be right here
Track 2 – Up Down
Up down in or out, who gives a sh…
Hey Who's This?
Luke is Awesome
Luke is Awesome
Luke is Awesome
Luke is down 19 spots to his lowest ever place on the chart
No But Really
Luke is Awesome
Luke is Awesome
Luke is Awesome
Luke isn't even one of the top 3 jugglers named Luke this year
Track 3 – Next Year
Inside the top 30? better than I could do.
How can we all improve next year?
The man from Cirque du Soleil
Thom Wall this year is up eight
Twenty nine tricks is okay
Next year show thirty for thirty
Ori will stay above it all
Ori will play with rings and ball
Ori is in the credits
Next year show us new edits
New entry Lauri Koskinen
Having fun time and again
Dancing Instagram Intros
Next year more workshop videos
Etienne getting tricky
Brand new skills are sticky
Three diabolos on the bubble
Next year show one year more of trouble
Orange clubs as his tool
With style so fresh and so cool
Sagi is rocking the show
Next year show us how you'll grow
Club juggling for the next age
Magnet Opus on the stage
Emil's club world record on the line
Next year three more catches with nine
Five ball tricks are overrated
Luke's numbers appreciated
Never does fewer than seven
Next year show us 22 with eleven
In Febz and Merch, that Kellin Quinn
Apels and Meh, club juggling
What happened in Jun? Who knows?
Next year show us 12 monthly videos
Back again is Amaron
The tech and research Paragon
Failure's fun success is sweet
Next year more clubs on your feet
Guillaume is introducing
New dimensions by reducing
Diabolo down to the core so
Next year show what more you have in store to explore
Track 4 – The Tour
Please take your seats everyone, we must continue the tour.
This next part is very exciting, as five of these specimen have never been featured before.
On the left we see a Zak McAllister, a new addition typically found
In the rusty industrial zones of Texas, trying to keep its balls off of the ground.
To the right we may spot a Quinn Lewis, a new specimen that is actually
a squeeze catching hybrid of a Kellin Quinn paired with a Lewis Kennedy.
Directly ahead is a Liri Kamay, ah yes, throwing clubs and spinning.
However this is only a juvenile example, so what you're seeing is probably just the beginning.
Oh my goodness, look down below, a Jacob Sharpe has appeared!
This is a perfect example of the species, with pink balls and a beard!
And a Luca Pferdmenges too! I can't believe how lucky we are!
We saw this floppy haired one once before, and it's only been growing so far.
Ah look, another variety of Luke, of the Adverse type this time.
Spotted in Brazil, Canada, and Japan, this one is just entering its prime.
Our next specimen has it's own enclosure, that large structure made of glass
Called the Jonah Botvinick-Greenhouse, so look inside as we pass.
And now on the left is… ah… a Matan Presberg? I think.
My notes aren't very detailed. It just arrived, and not a lot of research has been done yet.
On the right a Kenny Cheung, our final new arrival for this year
And the second of only two specimen from the southern hemisphere.
Jay Gilligan, oh my goodness it's the
Jay Gilligan, it's been around for years, but the
Jay Gilligan, such an impressive creature
The Jay Gilligan
Okay look, let's take a break from the tour here
Spend some time taking photos
Go up the steps to the observation platform
Meet right back here in let's say seven minutes time
Track 5 – Top Ten
He was once number one
In the top ten now is Benjaminsen
He's improving again
You gotta unchain
The insane dane, The hurricane
Yeah, Lauge's back
Staying on track
In the top ten still is Tony Pezzo
Six years in a row
He's juggling rings
And flinging and swinging and catching weird things
That's not real sport!
Take to the court
In the top ten now is Josh Horton
Having fun in the sun
Trick shots like these
The basketball record is broken with ease
And from a T-rex
To The fairer sex
Here in the top ten is Delaney Bayles
With tricks hard as nails
The Main Event Winner
Beating the guys at their games before dinner
Yeah, we wanna see more
Now look out for
In the top ten is Eivind Dragsjø
The nine club solo
Record his alone
Give him six clubs and Eivind's in the zone
So tech it's sick
Our number five pick
In the top ten is Onni Toivonen
With white clubs again
Not just video
He rocks even harder tricks right in his show
Now we've four more to go so
Lewis Kennedy
Wes Peden
Haavard Hvidsten
Ofek Snir