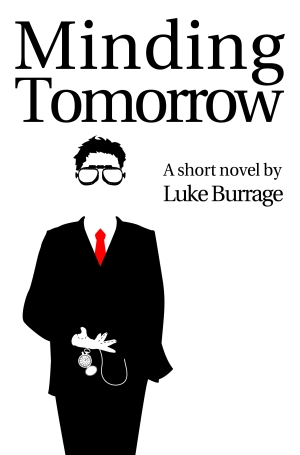 I released my first completed novel, "Minding Tomorrow", for free a few months ago, and so far the reception has been really good. I've had loads of great emails from people telling me they've enjoyed it, a podcast review by Chris from the M-Brane SF blog, and even a few donations via the PayPal tip jar.
I always wanted some kind of cover art, even though the novel only exists in electronic versions. The image I had in mind was an anonymous man with a black suit, white collar and red tie (a reference to The Son of Man by Rene Margritte) with a blank face, and a pair of chunky-rimmed glasses (a reference to some key technology in my novel). I wanted it to look clean and iconic.
I could have made it myself, but the graphical style I wanted isn't something I'm capable of creating. Instead I thought it would be easier to pay someone else to do a far better job than I ever could.
Stefan Kernjak's work caught my eye, and I subscribed to his blog. He posts new images every day, so I soon got a feel for his work. His vector-based images had the exact cleanness of line that I wanted, and the characters he creates with simple shapes really come to life.
I was almost completely sure I wanted to ask Stefan to make an image for me, and then he posted a work-in-progress of a late Father's Day card. It featured a faceless man with a black suit, white collar and red tie. When I saw this I knew he'd be able to create exactly what I wanted.
After a few emails he'd agreed to give it a go, and I gave him the design brief. He emailed back his first idea, which was completely different than the image I first had in mind, but interesting in ways I hadn't even considered. I gave a few notes asking for some minor changes. When he sent me the second version, I could find nothing wrong with it at all. In other words: probably the easiest working relationship I've ever had.
I've had the final image for a few weeks now, but I've only just had time to add the title text. Now I need to work out how to include a cover image in an ePub file… I'll get back to you in a few weeks on that one…
What do you think of the cover? You can click for a hi-res version. I hope you like it, as Stefan is currently working on a cover for my next novel, "Monster Story (working title)".