I've seen links all over to the website called Where I Write, which features photos of science fiction and fantasy authors in the places where they write. For example:
So, after seeing yet another link to the same website, I thought I'd share a photo of the place I write. I've got time to spare at the moment*, so got out the tripod:
Of course, I travel a lot, and much of my writing (and even more of my re-writing and editing) is accomplished while sitting in the same position but in hotel rooms and cruise ship staterooms around the world. But at home, when I write, I do it lounging in the living room.
Things in this photo:
– Me
– My laptop. It's a MacBook, so often gets quite hot, which is why it isn't on my lap.
– A very large couch. I can sit on this in many positions and orientations.
– A lamp. Reflected light off the wall is plenty to light my keyboard.
– A big piece of art. Made by Pola.
– A mobile. Made from twigs.
– A globe. It is very old and dated, but globes are the only way to really get a sense of the shape and size of different places in the world.
– A ladder. This leads to the bedroom/office.
– A window. This leads to the kitchen, important for the provision of drinks.
– A chandelier. Only turned on during large dinner parties.
– A blanket. Nice for if I get chilly.
– Three white boxes, stacked. These hold magazines, photo albums and many an atlas.
– A large fuzzy mat. This is to make the expanse of wooden floor more friendly.
Compared to the authors on the Where I Write website, my place is either more comfortable or more tidy than them all. John O'Niell looks comfy, but is surrounded by clutter. Nowhere near as much clutter as Samuel R. Delany, but it's still there. John Harrison is tidy, but the room doesn't look that inviting.
Why no mess for me? And why not sit at a desk?
First, all my notes are on my laptop, and my laptop is backed up every day. If I need to do research, I usually do it via electronic sources, online or via ebooks.
Second, I outsource my library/bookshelf functions to the Another Country bookshop, which is only a few hundred meters away, and has about 25,000 books. Any book I want I either borrow from there or buy it new from another shop, and then, to avoid clutter at home, donate the new books so borrowing books is free.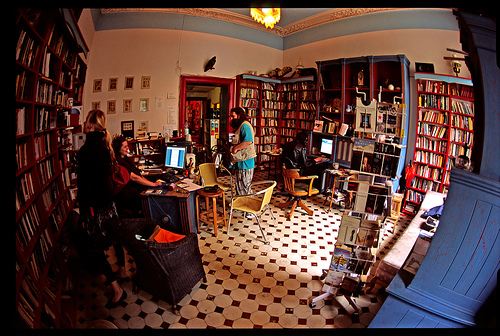 Third, and this relates to no clutter as well as my comfort, I'm not a professional writer! Why the hell should I sit at a desk as though I'm working? I get paid for my writing, but not for my fiction. Like Ted Chiang, I write fiction because I enjoy it, and have a real job to support my hobby. That is, if being a professional juggler can count as a real job.
Catch you later…
* Due to recently becoming single for the first time in 4.5 years I'm not really into writing at the moment, nor much of anything. Regular posts will resume shorty.