Ever since I first saw photos of Yosemite, I knew I'd have to visit one day. On this trip I knew I'd have the chance, and had a lot of fun planning my three day adventure. The weather forecast was bad, but this had the amazing effect of emptying the entire valley of other people. I'd walk for hours without seeing a single other person. As far as I can tell, this is a pretty rare experience.
I'll tell the story of my bear encounter at the end of this post, but for now I'll share some photos.
It's photos like this one that made me want to visit Yosemite. Here I am trying to imitate Ansel Adams's famous photo of Brideveil Falls, El Capitan, Sentinel Rock and the Half Dome. Unfortunately the Half Dome was hidden by the clouds.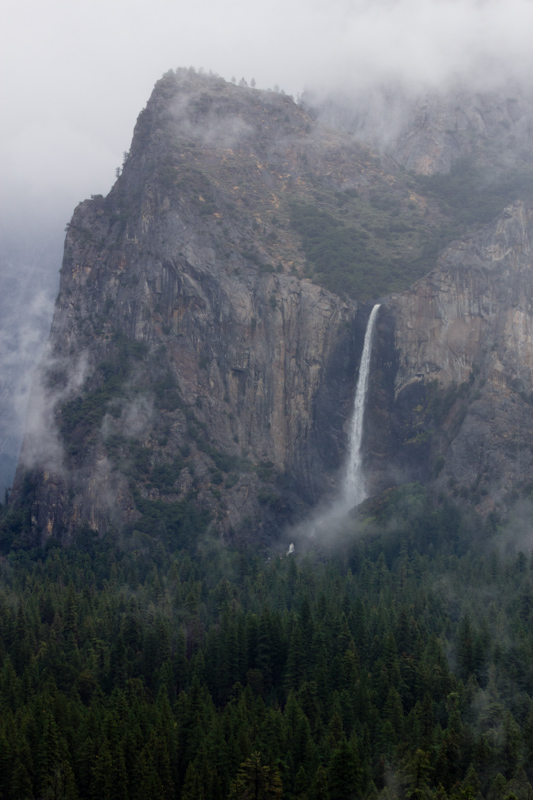 A photo of me not taken by me. Rare on this blog!

Unexpected blue sky.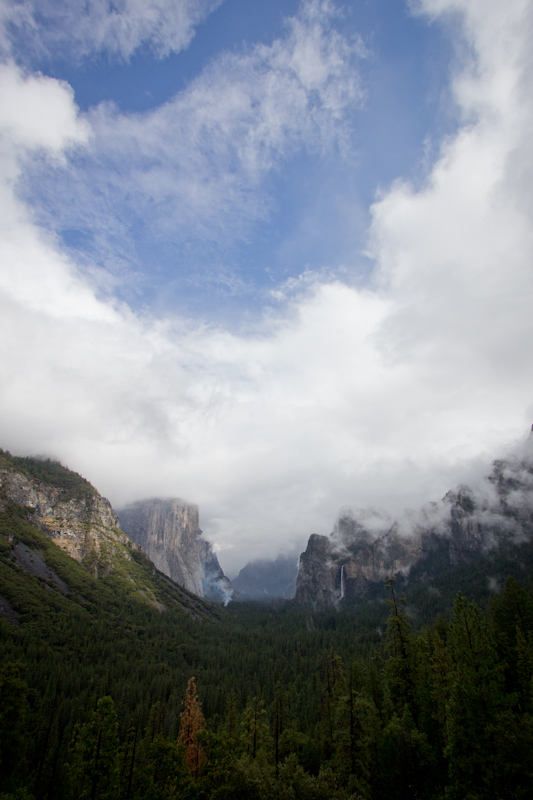 More colour than Ansel Adams.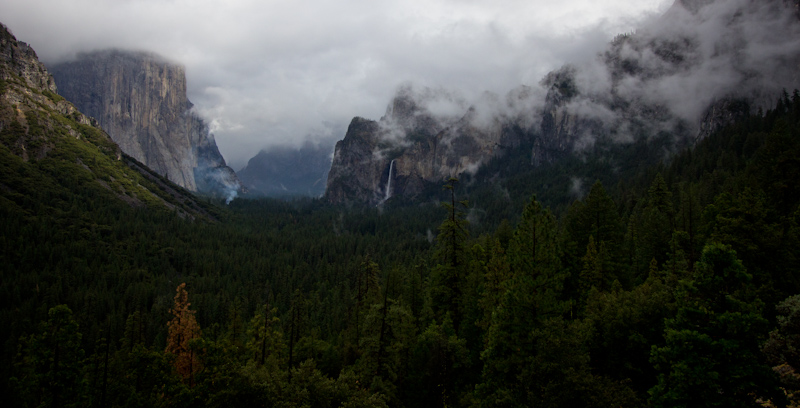 Tourist view of Yosemite Falls.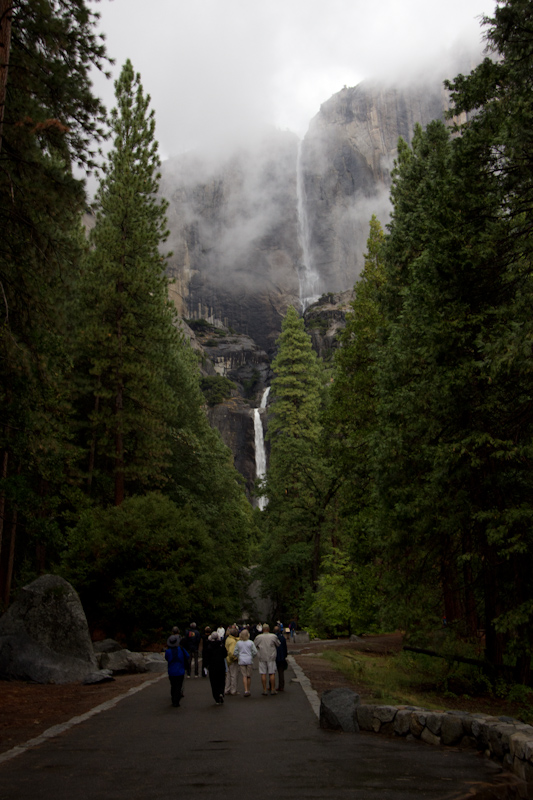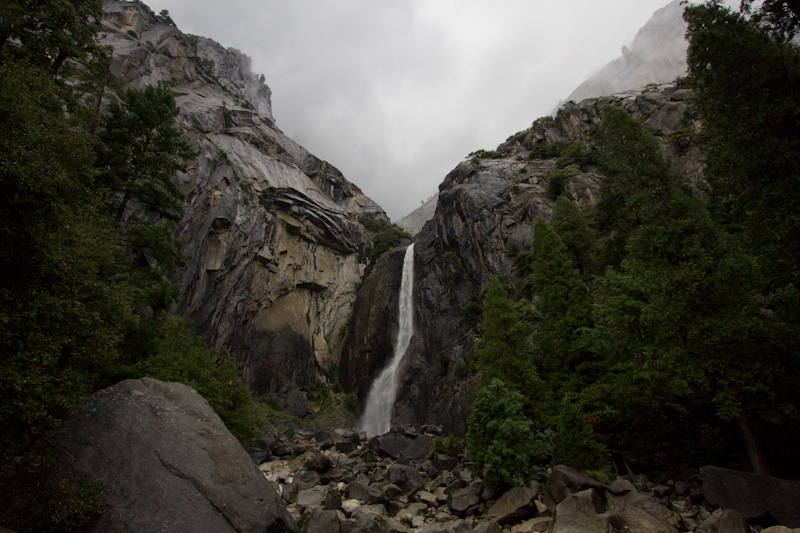 Oh Dear.

Trees and cliffs.

Ahwahnee hotel lounge.

Half Dome peeks through the clouds and trees. This was my first glimpse of the rock.

Mirror Lake, not so impressive when mostly empty.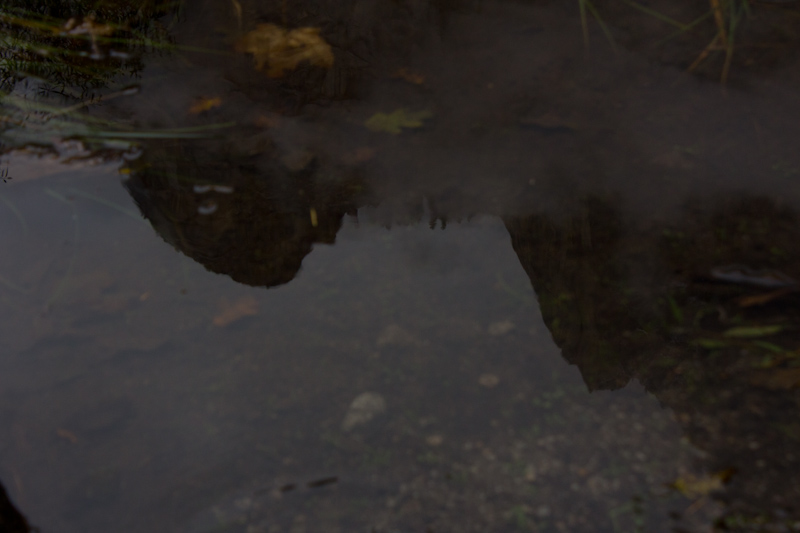 Clouds at the Half Dome.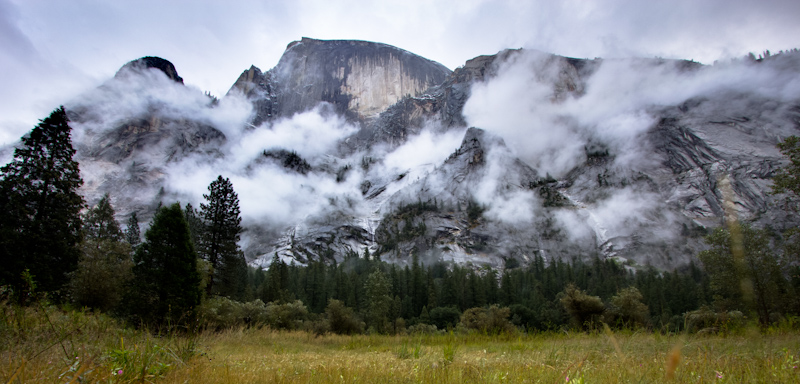 The dining room at the Ahwahnee Hotel, where I ate on of the most expensive single meals of my life. I think I paid more for the building I was in rather than the food or wine.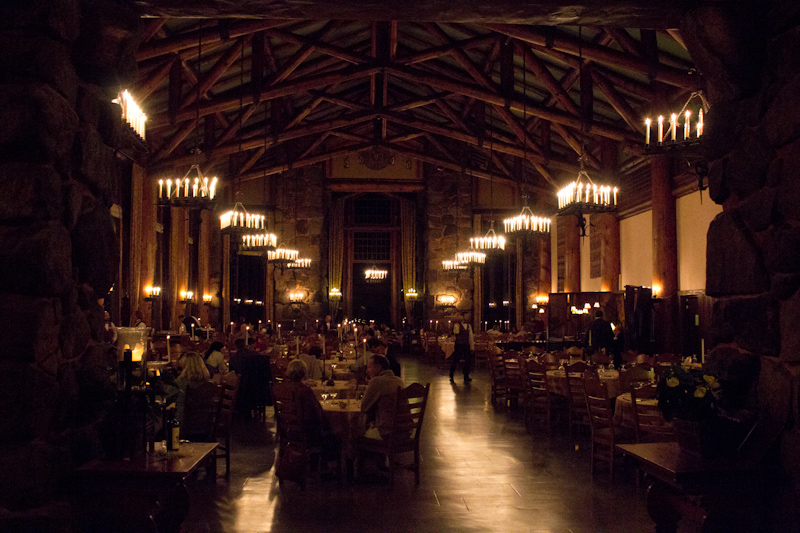 On Thursday morning it was raining. All morning. Until 2pm. I decided to chance a hike up the Four Mile Trail to Glacier point. If the clouds and rain held, I'd see nothing, but if I stayed in the valley I'd see nothing for sure.
As it happen, as I climbed higher, the clouds lifted higher and higher. It turned the single most magical hike of my life. At every turn the views became more impressive, and the light more and more interesting.
The non-tourist view of the Yosemite Falls.

Tree details.

The Yosemite Falls again.

Amazing clouds.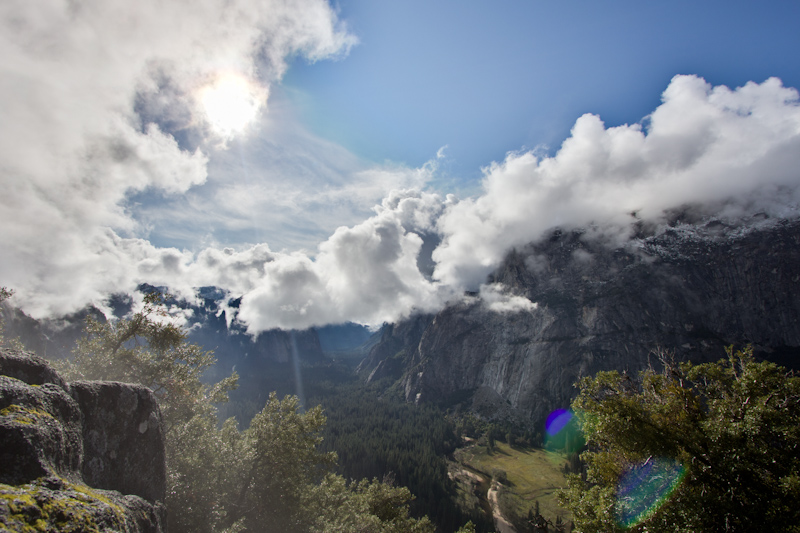 Hiking up into the snow and clouds.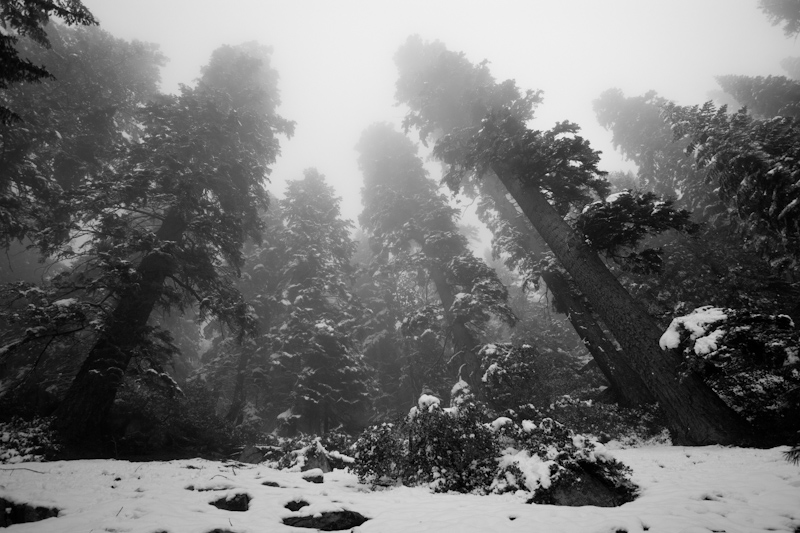 And out into the clear again!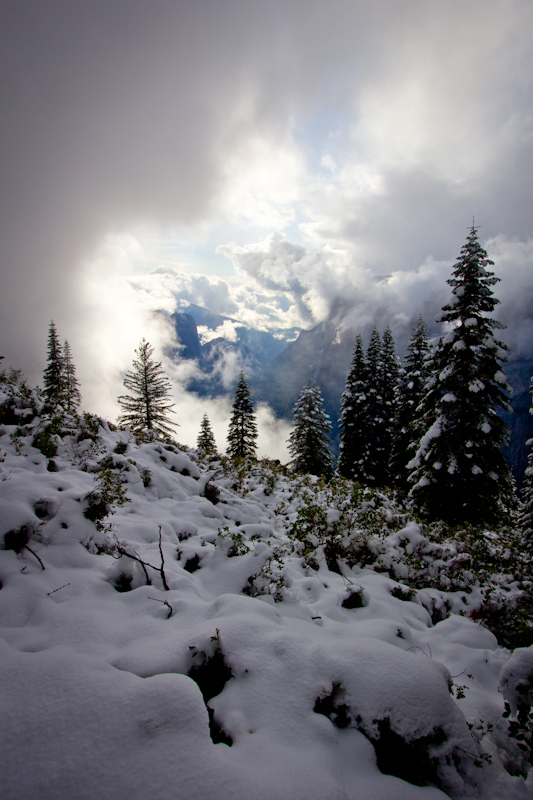 For some reason, I think Ansel Adams is to blame, I always picture Yosemite in black and white in my mind. I think it works well in photos like this too!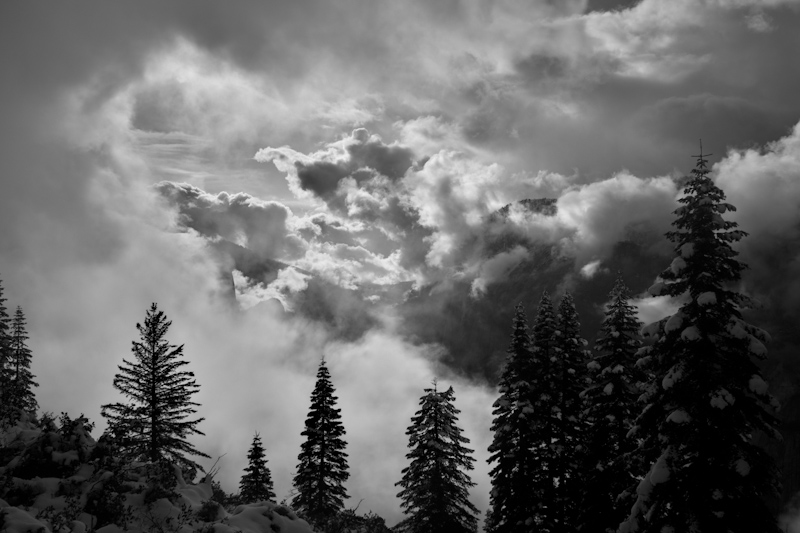 A park ranger had marked the path through the snow to the very top of the trail. I'm glad he had done so, as I'd never have followed the path without it. Only three other people hiked to the top of the trail that day, but that was enough so the 6-10 inch thick snow didn't trouble me too much.

The view from Glacier Point. The Half Dome wouldn't show itself! I was above most of the clouds, but not those around the other high points in of the valley.

The Half Dome makes an appearance!

And then the sun began to set. And it was just beautiful! These photos really don't do it justice. You had to be there!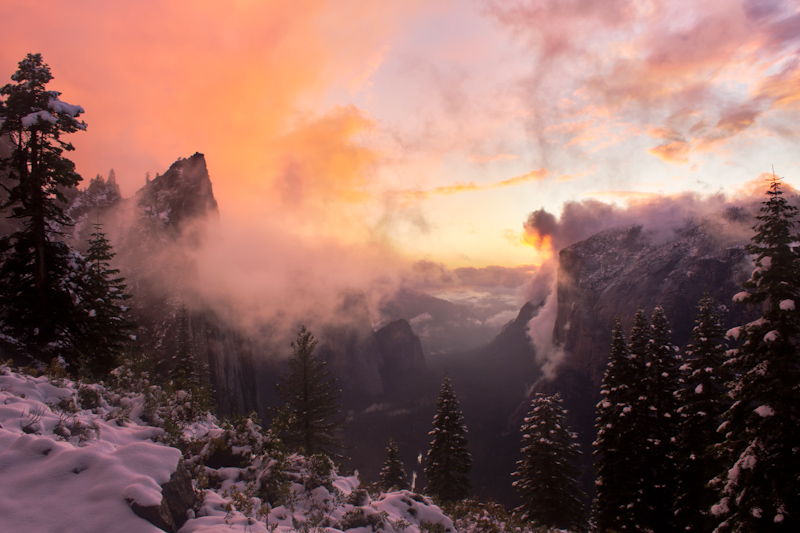 But as it happened, I was the last person on the trail. Everyone else was had passed me on the way down hours before, and would have already been on the valley floor.

That I was the only one to see these views first hand made the whole experience extra special.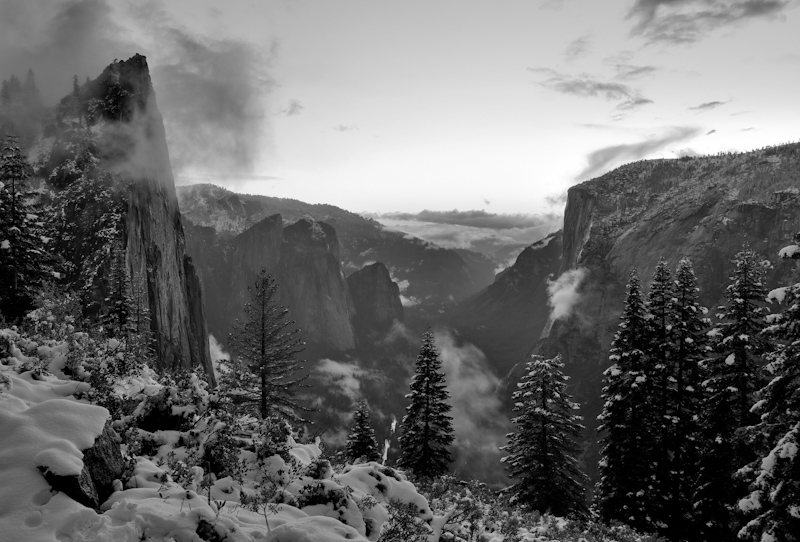 I turned a corner, and saw the Half Dome catching the last of the evening light.

After the sun dropped below the horizon, mist began to fill the bottom of the valley.

The stars came out, and I had to use my iphone as a torch to see the path under the trees, but then I turned and saw the moon rise over Sentinel Rock. I thought the sunset and starlit valley had been amazing, but this just added an extra layer of magic on the entire hike.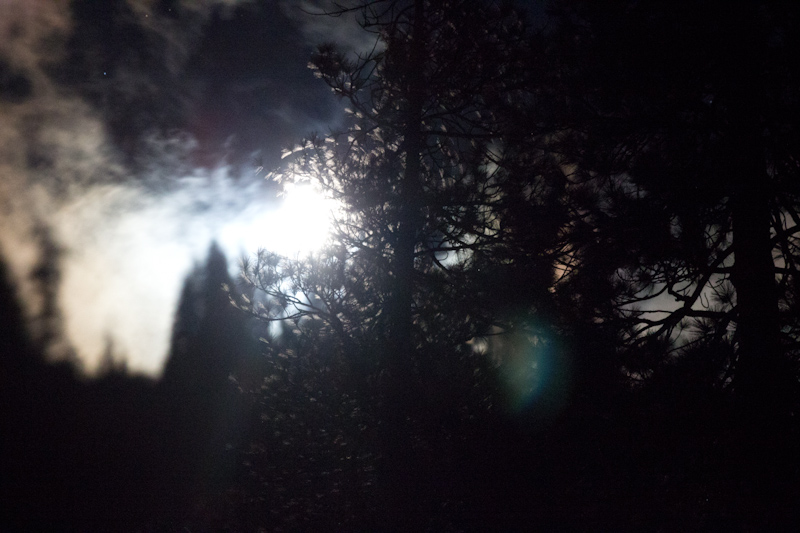 I reached the valley floor, and the moon lit up the mist through the trees.

A view of the Yosemite Falls from the Swinging Bridge, as lit by star and moonlight.

Another moonlit view of the valley walls.

The view from my cabin/tent on Friday morning. The day started with fine weather which was good for my planned walk up to Vernal Falls. But bad for having the the entire path to myself for the third day in a row.

Vernal Falls.

Test shot for an "international juggler video" clip. I tried to get the rainbow on video, but I've not checked to see how well that worked.

Vernal Falls one more time.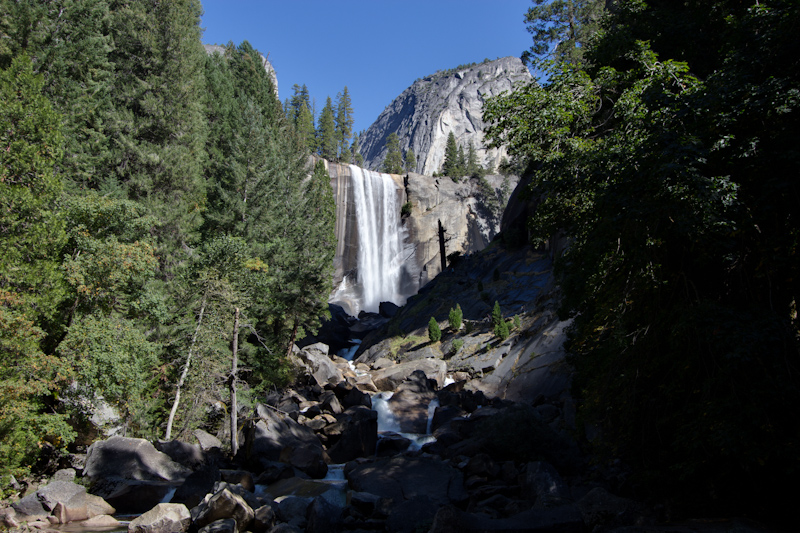 Another shot of Yosemite Falls from the Swinging Bridge, this time in the sunlight.

Postcard shot of the Half Dome.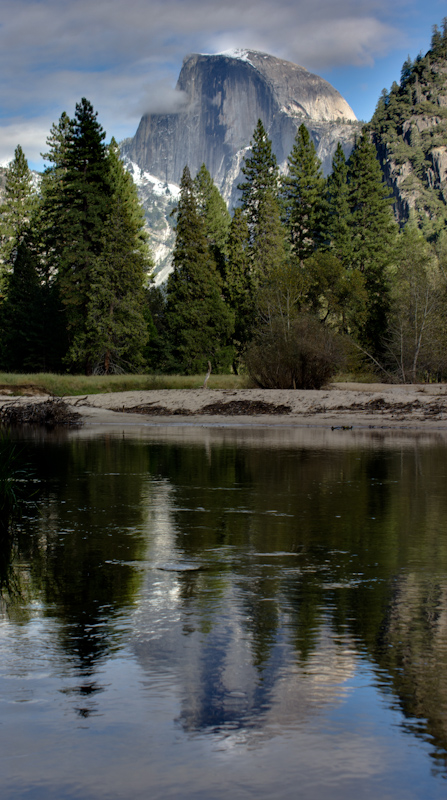 Squirrels everywhere, including on my camera bag!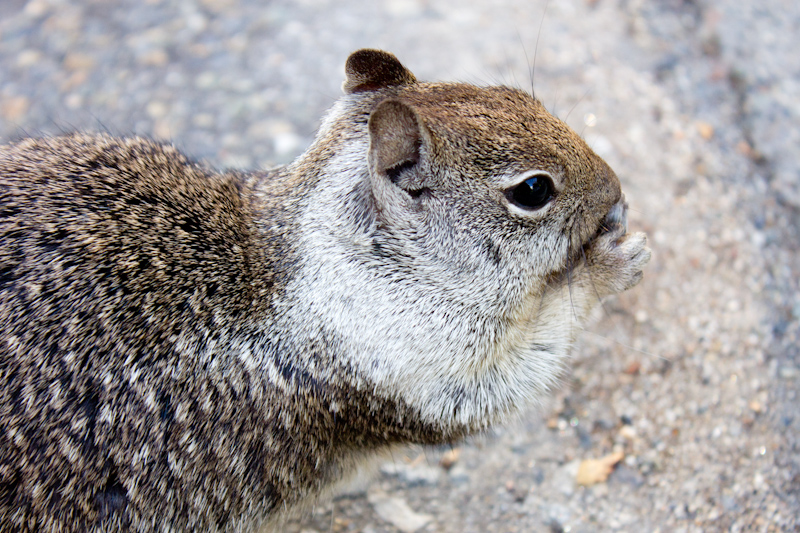 El Capitan from below.

A climber on El Capitan.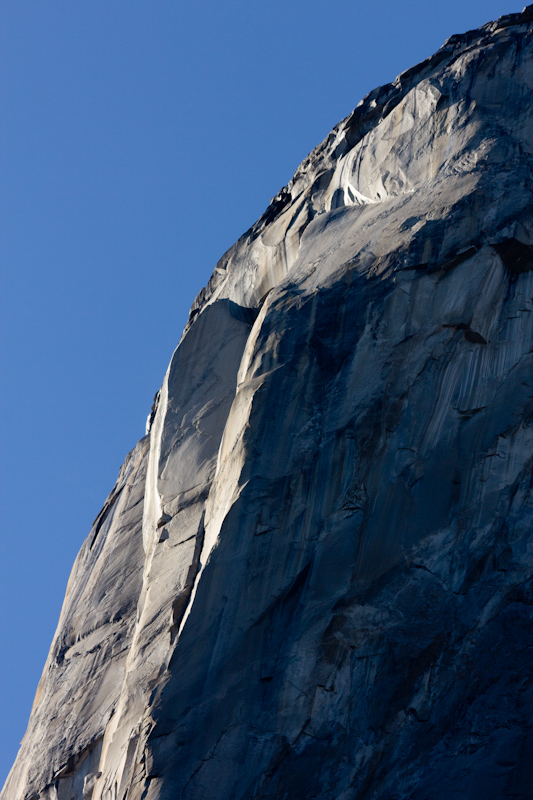 So what about my encounter with a bear? It happened like this.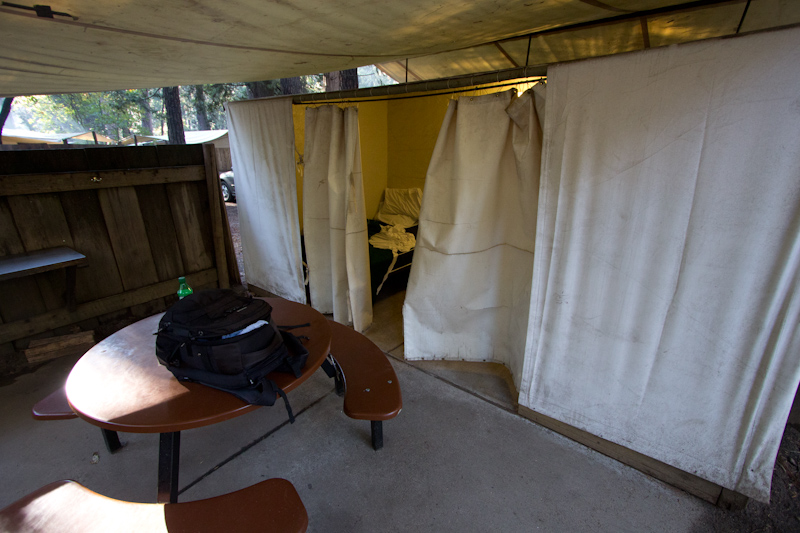 On Wednesday night I got to my cabin/tent thing (see above), and put out my blankets. I was pretty tired, but wanted to go through the photos of the day. My laptop gets hot while doing photo editing, so I made a little tent under my blankets and used it as a heater. That worked well!
After a while I got too tired, so turned off the light and fell asleep.
And then I woke to noises outside my cabin. First I thought it might be a raccoon, but soon the noises told me it was a bear!
I thought if I just kept quiet it would leave. But instead it came inside my cabin/tent! I was shitting myself, as it was utterly dark! I couldn't see anything, so just curled up as small as possible on my bed and kept quite.
The info signs say that if you see a bear, you should make noise to scare it away. I would have done this right away, if I'd been fully awake, but before I thought about it, the bear was within a metre of my bed, I couldn't see it, and it was between me and the exit. That LAST thing I wanted to do was make noises to scare a bear so close that I could have reached out and touched it. Or, more to the point, so close it could have reached out and touched me.
It turns out I had my Ritter Sport chocolate bars stashed away in my camera bag, and had forgotten all about them. I'm an idiot! So the bear dragged my camera bag outside, and routed through the open compartments (I'd taken much of my gear out, and left it totally open to let it dry, thankfully). It took the chocolate and left.
I called the camp front office, and some kind of ranger came over, and we stored my bag again properly in the locker.
And then I tried to get back to sleep. That was harder than it sounds! I'd had a close encounter with a bear. And I didn't see it. It was exactly like a horror movie. You hear it, you know it's close, but seeing nothing is what made it extra scary!
It had dragged my bag out from beside the very bed I slept in. It was my fault for not paying full attention to the storage of food, and I have no excuses as there are signs EVERYWHERE about leaving food outside of lockers. You can get fined and thrown out of the camp for that kind of thing.
In the morning I checked my camera bag. That was a very dirty bear! It left muddy marks all over the inside of my bag.

So concludes my Yosemite trip reporting.