During my last cruise someone asked me: "When did you know you wanted to be a professional juggler?"
I thought about it for a few seconds before replying: "Exactly ten years ago today."
Which, to be honest, is only half true. Ten years (and now ten days) ago I didn't know I wanted to be a professional juggler, but I knew I wanted to be a juggler.
Back in April of 2000 I'd only attended two conventions, both of them a Chocfest, a one day event in York. I'd had a lot of fun at both, but hadn't made any effort to go to any others.
In 1999, the British Juggling Convention visited Durham, just a few miles from where I lived. I drove down to Cornwall instead, to go surfing.
In 2000 I lived in Scarborough, attending university, and could go surfing more often. More to the point, I'd got far more interested in juggling by then too. I discovered the BJC would be in York. And Anthony Gatto was the big name guest.
How could I not go?
So I went. The weather was terrible, so I slept in my car. The parade was awful too. But those were my only two complaints. Apart from that, I had a really, really good time. I have lots of good memories, but two are relevant here.

1: I saw Anthony Gatto training in the gym. He had the whole gym to himself, and did about two hours of juggling for the hundreds of people watching. I had my camera, so stated filming.
He equaled or broke a number of juggling records right there in the gym, without even trying hard. The only reason these records became official world records was the fact that I videoed them and sent the footage to the JISCON. 9 balls and 7 clubs are the ones that stick out in my mind.
2: I saw my first big convention show. And I mean it was a big show, not just for a big convention. Even to this day it is one of the best juggling shows I've ever seen, and I don't say that just because it was my first.
Sure, Anthony Gatto headlined, but I'd seen him do more in the gym the day before, so while it was amazing, it wasn't the best part of the show for me. Other things acts that stand out:
Ben Richter/Ben Smalls. He did two acts, one with balls and one with clubs.
The Gandini Juggling Project. Due to having a large group from performing daily in the Millennium Dome, Sean put together a two 12 person acts.
Jamie Fletcher, doing his classic 3 ball routine.
Curious Eyebrow, doing a hilarious random-prop-based comedy routine.
Feeding the Fish, with the first ever public performance of Aerotech's programmable glow clubs.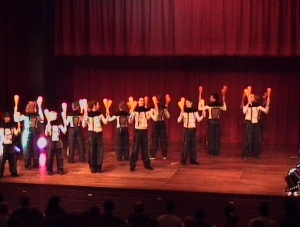 The audience went crazy for the show, just as they had for Gatto practicing in the gym. I thought "I want to get that reaction!" Not that I want to be the center of attention (though I sometimes do) but I wanted to get good enough at something to be able to get that reaction.
At the end of the convention I set myself two goals:
1. To break a juggling world record for myself.
2. To perform in the biggest juggling shows.
And that's what I did. In 2003 I set a new world record with Ben Beever, and passed more objects between two people than anyone ever had before. The record of 18 balls stood until we ourselves broke it in 2008 by passing 19 balls.
As for performing in the biggest shows, I did that too. In 2004 I performed in the BJC gala show. That year I also performed in the gala shows at the Nordic and Austrian conventions, headlined the Dutch convention gala show, was the final act in a huge EJC open stage show (though I'd also done that back in 2002), and won the Peoples' Choice Award for my various turns on stage at the IJA summer festival. I'm probably forgetting some other appearances in 2004, but it was that spring and summer when I made the transition from "juggler who also juggles on stage" to "performing juggler".
To me, these were the ends, but they became the means. Getting good enough to break a juggling world record made me a good enough juggler to become a professional. And when I had acts that were good enough to be booked for national and international juggling conventions, I was good enough to quit my job and take up juggling full time.
It's been a good 10 years!